The sales of JLC branded products is among one of our most popular and biggest fundraisers! The JLC Products Committee manages the sales of these items online, directly to members, and directly to the public at various League events year-round. View our popular cookbooks below! For questions, contact boutique@jlcharleston.org or the office at 843-763-5284.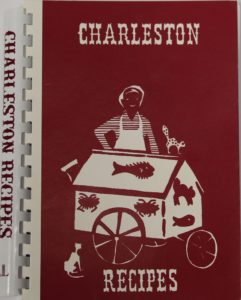 Virtually lost for decades, Charleston Recipes was recently rediscovered in an attic by Josephine Humphreys, a former JLC member and daughter of the original editor Martha Lynch Humphreys. "Only one year separates the two cookbooks (Recipes and Receipts), but they can almost be seen as representing different decades," says Humphreys in her introduction. "The 1949 book seems spare and frugal, still in the shadow of the depression and wartime privations, while the 1950 book is exuberant, celebratory, even sometimes downright lavish. And yet there are tempting and delightful recipes to be found only in the red book."
Softcover, 198 pages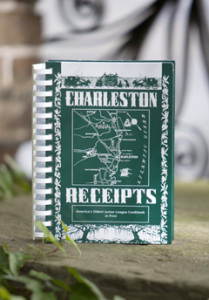 "With Charleston Receipts…I've turned out comfort dishes that have never failed." – Michelle Green, Food & Wine magazine called the Bible of all Junior League cookbooks, Charleston Receipts features recipes that have served Charleston hostesses well for decades and is considered a "must" in any cookbook collection. Described by Food & Wine as "reflecting the nostalgia for the Old-South that prevailed among low-country aristocrats during the postwar (Civil War) era," Charleston Receipts features a recipe collection as colorful and timeless as the area that it represents. The recipes were influenced by the family cooks, many of whom spoke the Gullah dialect, a centuries-old Atlantic Creole language that is illustrated and preserved throughout the pages of Charleston Receipts. For its outstanding preservation of local and regional culinary customs and its benefits to the local community, Charleston Receipts was inducted into the Walter S. McIlhenny Community Cookbooks Hall of Fame in 1990.
Hardcover, 376 pages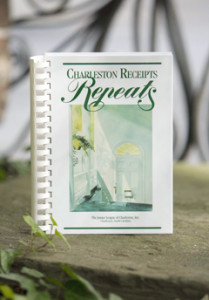 Packed with over 600 recipes, Charleston Receipts Repeats highlights abundant Lowcountry foods – seafood, game, fresh vegetables and delicious fruit and is illustrated with historic Charleston scenes by local artist William Jameson. Repeats is the hostess' best friend, offering not only exceptional recipes, but sample menus for all occasions. Exclusive to Charleston Receipts Repeats is an eclectic selection of recipes from some of Charleston's most highly acclaimed restaurants including The Grill at Charleston Place and Magnolias. Charleston Receipts Repeats was inducted into the Walter S. McIlhenny Community Cookbooks Hall of Fame in 1993.
Hardcover, 381 pages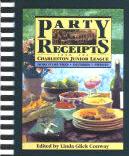 For those who prefer the party to the dinner party, Party Receipts offers inspiration not only for lighter-fare menus, but also tips on entertaining from hostesses in Charleston, described by USA Today as "America's Most Polite City." From an afternoon tea to a light buffet, the pages of Party Receipts exude charm, warmth and delectable food – all the ingredients for a successful affair.
Softcover. 201 pages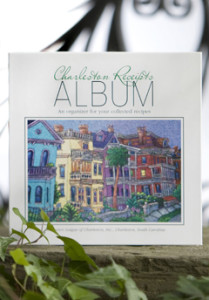 The Charleston Receipts Album is a recipe collection book. This innovative design allows for a home cook's recipes to be in full view, avoiding the hassle of shuffling through cards. The plastic sleeves not only protect a torn recipe from a magazine but also cares for those family recipes cards passed down from generation to generation. There is nothing on the market like the Charleston Receipts Album which also features some of the best recipes from the Junior League of Charleston, Inc.'s other cookbooks (Charleston Receipts, Charleston Receipts Repeats and Party Receipts).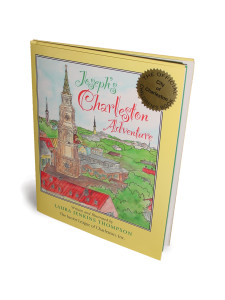 Joseph's Charleston Adventure is a children's book that was published in April, 1998, and was proclaimed as "The Official Children's Book of Charleston" by Mayor Joseph P. Riley, Jr. in May, 1998. Written and illustrated by Sustainer Laura Jenkins Thompson, the book tells a charming story of friendship between Joseph and his friend, a Boykin Spaniel puppy named Susie. The two explore the sights and sounds of historic Charleston as Joseph helps Susie find her way home. Included in the book is a dictionary of historical facts and terms exclusive to Charleston as well as one copy of Joseph's tour of the city for you and your child to experience together.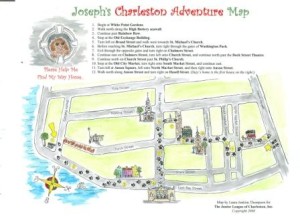 The Joseph's Children's Tour is an interactive walking tour that accompanies Joseph's Charleston Adventure. The tour can also be purchased separately and is a fun activity for the whole family! This tour is unlike any other, offering exciting activities at each historical stop along the way. Activities are broken into four (4) age groups: Preschool, Elementary, Middle and High school/Adult. Tour length is approximately 2 hours.
Package of 15 additional sleeves and 30 recipe cards for the Charleston Receipts Album.
SHIPPING AND RETURN POLICY
Exchanges & Refunds
In an effort to ensure customer satisfaction, we offer an exchange and refund policy. If the package was damaged in shipping or if we made a mistake on your order, we will exchange the item at our expense and reimburse you the return shipping fees.
If you are not satisfied with your  purchase, we will refund the full price of your purchase minus original shipping charges upon receipt of the merchandise (returned to us at your expense) within 15 days of your original purchase.
For exchanges and returns, please:
return new merchandise in its received condition
include a copy of your invoice
include a statement of reason for return/exchange
return the merchandise within 15 days of the shipment date listed on your packing slip
All shipments should be addressed to:
The Junior League of Charleston
51 Folly Road
Charleston, SC 29407
All refunds will be made in the form of the original payment method and may take up to two weeks to process and issue. Direct any refund questions to 843.763.5284 or office@jlcharleston.org.