Charleston's Biggest Garage Sale Expands to Three Days and New Location!
Attention bargain seekers and treasure hunters! The Junior League of Charleston's "Whale of a Sale," Charleston's biggest blowout garage sale,
will be held February 16 – 18 at the College Center at Trident Technical College in North Charleston.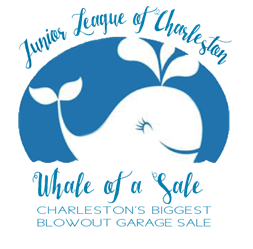 For the first time in the 42-year event history, "Sponsor Splash" is open to the public,  Thursday, Feb. 16, 6 – 9 p.m. For a $40 entrance fee, early shoppers will enjoy hors d'oeuvres, live music, a cash bar and the greatest selection of items for purchase. Sponsor Splash items are sold at 2X the marked value to kick off the three-day fundraiser. On Friday, Feb. 17, 6 – 9 p.m. admission is $12 and on Saturday, Feb. 18, 8 a.m. – 1 p.m. admission is FREE and features the same high-quality, low price items.
For more information, read the full press release here.