Womens Leadership Seminar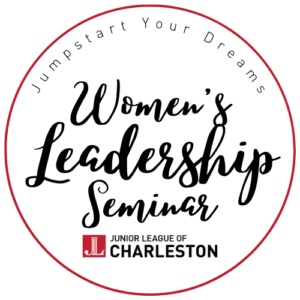 The Junior League of Charleston is excited to host our first Women's Leadership Seminar on Thursday, March 10, 2022. Join us to Jumpstart your Dreams with a full-day conference featuring leaders in marketing, leadership, branding and finance.
We're proud to have Emily Boldon, VP of Music Programming for Cumulus Radio, as our keynote speaker. She is responsible for the music and personalities for 28 radio stations across Cumulus' adult contemporary platforms. Emily was lauded as one of the most influential Women in Radio in 2013, '14, '15, '16 and again in 2019.
We have an amazing line-up of speakers, with more to be announced soon, scheduled for four separate panels are:
Panel 1: Marketing in a Rapidly Changing World
Ashley Larrimore—Social Media and Branding Specialist
Tara Pate—Founder, Daysie
Panel 2: Practicing Empowered Leadership
Mary Barrineau—Licensee Co-Owner, Spherion Recruiting & Staffing
Anna Chalmers— Owner at Drybar Minneapolis & Drybar Charleston
Teri-Lee Holland— Data Center and Cloud Hosting Services Division Head, Naval Information Warfare Center Atlantic
Panel 3: Building Your Personal Brand
Erin Kienzle—TV Host-Low Country Live, and Video Coach
Carolyn Murray—News Anchor/Journalist, WCBD TV Channel 2, and Podcast Host
Brooke Ryan—On Air Personality, Charleston Radio Group
Panel 4:  Financing Your Dream Idea
Dorothea Bernique—Executive Director, Increasing H.O.P.E.
Laura Brisson—Team Leader, Senior VP, Southern First
Elizabeth Burwell—Senior VP/Charleston Market President at F.N.B. Corp
The seminar is scheduled from 9:00 a.m. to 5:00 p.m., immediately followed by a networking cocktail hour from 5:00 to 6:30 p.m.
Camden Room
Charleston Visitor's Center
375 Meeting Street
Charleston, South Carolina
WOULD YOU LIKE TO SPONSOR THIS EVENT? FOR INFORMATION ON SPONSORSHIPS, PLEASE CLICK HERE.