The Junior League of Charleston believes strong and thoughtful partnerships are the most effective way to create lasting community change. The generous support of corporations, businesses, and foundations makes it possible for the JLC to make a direct impact on children and families and our fight against hunger and homelessness in the Greater Charleston Community.
Please consider becoming one of our partners through our sponsorship program. For more information on our sponsorship opportunities, contact fundraising@jlcharleston.org.
Please click here to become a Junior League of Charleston Sponsor or click here to make a pledge.
Click the image below to download the Sponsor Packet.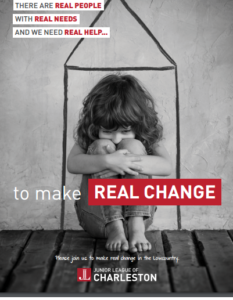 2015-2016 SPONSORS
The Junior League of Charleston, Inc., is grateful to those area businesses and individuals who have financially supported our efforts to combat hunger & homelessness in the Lowcountry in 2015-2016.  Together we raised $108,000 to further our mission of training women to be leaders while providing project grants to our community partners who focus on support services to those that are affected by hunger and homelessness.  The Junior League of Charleston is grateful for our dedicated membership & the tremendous support of the following sponsors.
| | | |
| --- | --- | --- |
| Platinum Partners: $10,000+ | | Friends: $250 – $499 |
| Wells Fargo | | 2015-2016 Night at the Races Committee |
| Brad Taylor Books, Elaine & Brad Taylor | | Bluestein & Douglas, LLC |
| The Grand Bohemian Hotel, Charleston | | Jennifer Cheek Blumenthal |
| Omar Temple | | BookConsignments.com |
| | | Alisa &  Jarrod Brooks |
| Gold Partners: $5,000 – $9,999 | | Elizabeth Bynum |
| Palmetto Ford Lincoln | | Dr. & Mrs. William Clare, Jr. |
| Cinebarre | | Mr. & Mrs. Joseph Corbett |
| Southern Eagle Distributing & Stella Cidre | | Julie & Roger Daniels |
| | | Edible Arrangements |
| $2,500 – $4,999 | | Clementina Edwards |
| Jones, Pounder & Associates, P.C. | | Legare & Tap Gresham |
| | | Debbie & Fritz Goulding |
| $1,000 – $2,499 | | Mr. & Mrs. Clay W.Hershey |
| Anonymous | | Lauren & Adam Holzer |
| Belk | | J. McLaughlin |
| Best Honeycutt, PA | | Lexie Jesup & Jason Buckley |
| Blackbaud | | The Junior League of Fayetteville, NC, Inc. |
| Croghan's Jewell Box | | Shelley & Greg Keith |
| Connected Solutions, LLC | | Joanna Kingialities |
| The Rev. Gale H. Cooper | | lululemon athletic |
| El Informador Newspaper | | Bonnie & Anthony McAlister |
| Elliott Davis Decosimo, LLC | | Moss & Yantis CPA PA |
| Ralph and Gloria Friedgen | | Jennifer Moyer |
| Good Law Firm | | Emiliy Friend O'Leary |
| Halls Chophouse | | Anna O'Quinn |
| Hilton Garden Inn | | Krishna Patel |
| Jim 'N Nicks Bar-B-Q | | Margaret & Gary Pope |
| Mass Mutual Financial Group | | Pope Flynn |
| Pierce, Herns, Sloan & Wilson, LLC | | Patty Quentel |
| Karen Prewitt | | Lisa & Joe Rainero |
| Smith Dray Line | | Kathy & Bobby Randall |
| | | Stacey & Andrew Stec |
| Associate Contributors: $500 – $999 | | Lisa & Heath Ward |
| 2015-2016 JLC Board of Directors | | Weeks & Irvine, LLC |
| Elizabeth & Ollie Burwell | | Alicia & Brink Williams |
| EventWorks | | Holland & Rhys Williams |
| Charlotte & Boyd Gillespie | | Harriet Travers Yarbrough |
| Harrell Law Firm | | |
| Dolly & Ross Lipman | | |
| Lowcountry Entertainment Services | | |
| Lucey Law Firm | | |
| Lucey Mortgage Corporation | | |
| Beth & Rob Meredith | | |
| Palm Avenue | | |
| Palmetto Payment Solutions | | |
| Pronetics Healthcare Group, Inc | | |
| Roberta Roller Rabbit | | |
| Robins & Morton | | |
| SC Brown Group of Principal Financial | | |
| Sea Island Home Services | | |
| Snyder Event Rental Company | | |
| Southern Eagle | | |
| Thrower & Schwartz | | |
| Tommy Bahama | | |
| Uricchio, Howe, Krell, Jacobson, Toporek, Theos & Keith, P.A. | | |