TOGETHER WE CAN MAKE AN IMPACT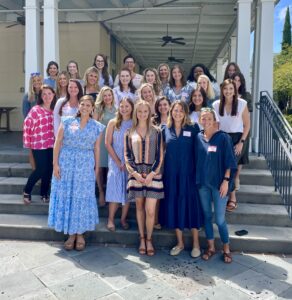 CONNECT WITH A NETWORK OF WOMEN PASSIONATE ABOUT GIVING BACK TO THEIR COMMUNITY
Serve the community directly through volunteering, develop personally or professionally through training seminars and mentorship, grow as a woman leader, and make an impact on your community. We welcome all women who value our mission, and we are committed to creating an inclusive environment of diverse individuals, organizations, and communities.
Interested? We invite you to learn a bit about the Junior League of Charleston: what we do, who we help, what it's like to be a part of such an impactful organization, and to meet some amazing women! Learn more in the Membership Guidelines.
Our next New Member class will be in January 2024 | Applications are live – APPLY NOW.
Our next New Member Orientation Class will begin in January 2024.  Applications are live and will be accepted until January 31, 2024.  You will be notified with a "Welcome" email and next steps on a rolling basis during the month of December and into January.  Please be on the lookout for an email from the JLC New Member Class Chair.
Join our Prospective Members list to receive information about upcoming events & New Member opportunities.
Please reach out to newmembers@jlcharleston.org with any questions.