Whale of a Sale is the Junior League of Charleston's signature event and can be best described as the biggest garage sale in the Lowcountry. Whale of a Sale is not just a fundraiser; it serves a community need by providing quality items at affordable prices to those who might not otherwise be able to purchase them. This year, Whale has raised over $55,000!
In 2017, Whale of a Sale will migrate over to College Center at the Complex for Economic Development at Trident Technical College. Mark your calendars for the following dates:
Sponsor Splash – Thursday, 

Feb 16, 2017
6:00 – 9:00 pm – Join us for entertainment, hors d'oeuvres, a cash bar,and the best selection of items for sale!
Tickets are $40, and items will be twice the marked price.
Buy your tickets today before ticket sales close Feb. 13!
Whale of a Sale –

Feb 17-18, 2017
Friday Sale – 6:00-9:00pm *tickets required*
Saturday Sale – 8:00am-1:00pm *free admission*
Tickets for shopping on Friday, February 17th from 6:00pm-9:00pm are $12 and can be purchased here.
**Junior League of Charleston Members, please log in before purchasing your tickets and Community Cards.**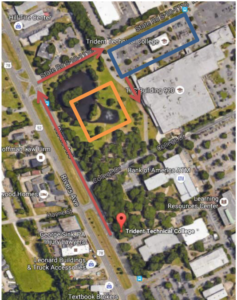 Trident Technical College is easily accessible from I-26. From Rivers Ave., turn onto Mabeline Rd. Take the first right into the parking lot marked "event parking" (marked in blue on the above map). The large building with the circular drive behind the fountain (marked with yellow square above) is The College Center (Bldg. 920).
---