Charleston Recipes Cookbook Launch Party
7 – 10 pm, The William Aiken House, 456 King Street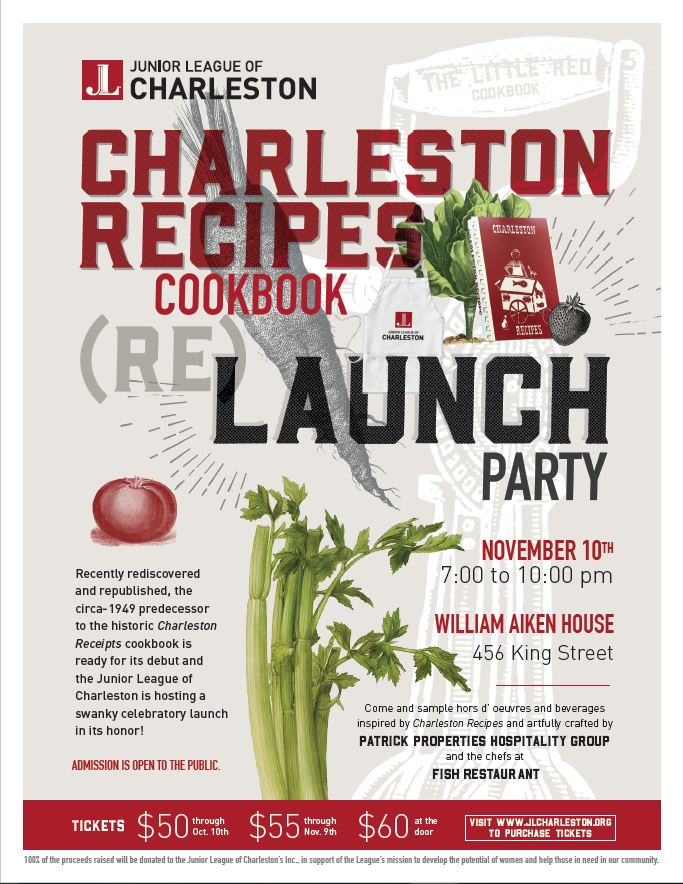 Southern chefs and amateurs alike have long found a place for the Charleston Receipts cookbook in their kitchens, with pages lovingly dog-eared and food splattered. Now, The Junior League of Charleston, Inc. (JLC) is republishing a little red cookbook, called Charleston Recipes, first published in 1949 that pre-dates the famous culinary manual.
Taking place Thursday, November 10th from 7 – 10pm at The William Aiken House, 456 King Street, the book release party will celebrate Charleston's culinary traditions and is open to the public. Tickets for the event are $50 per person through October 10th, $55 per person through November 9th and $60 at the door. 100% of the proceeds raised will be donated to JLC's mission to combat hunger and homelessness in the surrounding community. Sample hors d' oeuvres and beverages prepared by Patrick Properties Hospitality Group and the chefs at Fish that are inspired by Charleston Recipes.  Copies of the cookbook will be for sale at the event.
Read the full press release here.
Click here to order your copy of Charleston Recipes.