April 22-30, 2023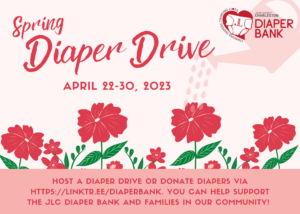 WHAT IS DIAPER NEED AND WHO DOES IT AFFECT?
Diaper need is the lack of a sufficient supply of diapers to keep a baby or toddler clean, dry and healthy.
Despite being a basic hygiene item, diapers are not covered by government assistance programs like WIC or SNAP.
Infants and toddlers typically require 8-12 diaper changes per day, which can cost up to $100 every month.
Before the pandemic, one in three families in the U.S. struggle with diaper need. We estimate that number has increased due to the economic impacts of COVID-19.
HOW CAN YOU GET INVOLVED?
The JLC Diaper Bank relies on community support to make an impact. Here are THREE easy ways you can help us #ENDDIAPERNEED!
1. Host a diaper drive in your office, community, or even virtually! Diaper drive registrations are now open here: https://linktr.ee/diaperbank. The Diaper Bank Committee will be in touch to provide drive materials including toolkit, sign and barrel. Diaper Drive Hosts Needed Flyer
Engage your network and support the community.
Use drop-off at your home or business.
Then, deliver your diaper donations to the JLC Diaper Bank (51 Folly Road) Monday – Friday 8:00 a.m. to 4:00 p.m.
2. Help us spread awareness of #DiaperNeed!  
Connect with us on Facebook and Instagram
Re-share our content or post your own stories!
Encourage/tag your friends and followers to get involved.
3. Donate to the Diaper Bank! supplement
Click Here to donate directly to the Diaper Bank.
Donating to the Diaper Bank allows us to leverage discounts
Monetary donations supplement diapers received during drives.
Drop-off Location: 
Junior League of Charleston

51 Folly Rd Blvd

Charleston, SC 29407